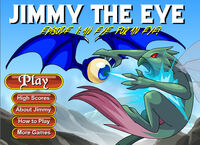 Jimmy the Eye is a Dragon Fable minigame.
How to play
Edit
Use mouse to move Jimmy.
Left click to fire beam from eye at enemies. (Hold down to fire continiously.)
Power Ups
Edit
Dollar Sign in a yellow orb - 500 gold
Red orb - +10 health
Blue orb - activates shield/+10 mana
Who is Jimmy?
Edit
"Jimmy the Eye is Warlic's favorite pet. He was originally created to run recon and retrieval missions."
-DragonFable
Warlic is the major mage in the game. He is not to be confused with Warlic, one of the people who made Dragon Fable.
"Credits:"
"Produced by: Artix Von Krieger
Programming and Audio by: Warlic (in real life)
Art and Design by: J6, Ghost, and Cysero
"